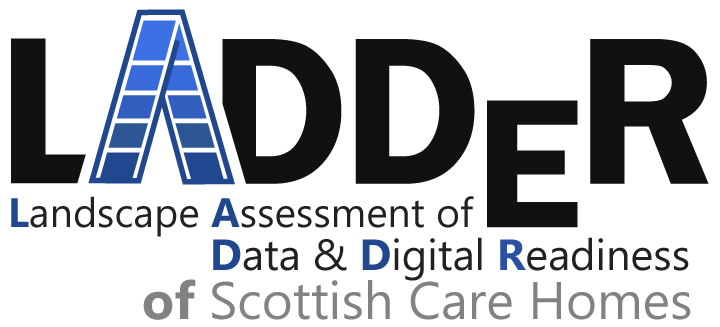 Edinburgh Napier University (ENU)'s School of Health & Social Care and School of Computing are leading an ambitious and critical review of how care home resident data in Scotland is collected and stored.
The study, known as LADDeR (Landscape Assessment of Data and Digital Readiness of Scottish Care Homes), is inviting 250 care homes in Edinburgh and the Lothians, Fife and the Scottish Borders to detail their digital connectivity, the systems they use to collect and store demographic, diagnostic and care planning data, and how this information is shared with other healthcare partners.

Care home data is notoriously complex, collected by a range of different systems that can vary from home to home. The lack of standardisation across the sector creates barriers to data access for those looking to monitor and develop services, as starkly exposed during the COVID-19 pandemic. 
LADDeR will provide a key role in understanding the current systems, to inform future ideas and innovation to improve data management in the care home sector.
Running from July 2021 to January 2022, the study is led by Lucy Johnston, Research Fellow at ENU's School of Health & Social care, in collaboration with Alistair Lawson, Associate Professor at ENU's School of Computing and partners at University of Edinburgh's Advanced Care Research Centre (ACRC). Funding has been provided by the Data Driven Innovation Programme.